Shoulder Replacement Surgery
Definition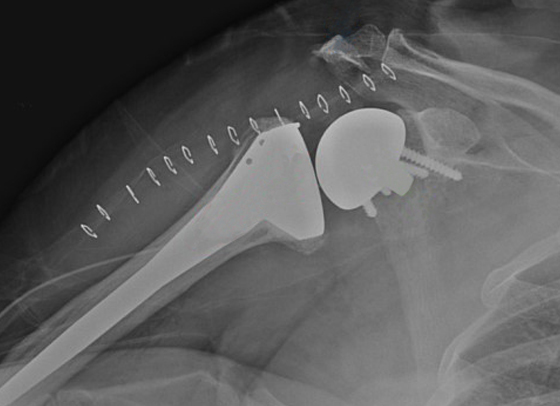 Shoulder replacement surgery involves replacing a damaged shoulder joint caused by trauma or disease with an artificial joint. It can be performed when conventional treatments or other surgical interventions show limited progress. If a rotator cuff is damaged, reverse shoulder replacement can be applied.
Reverse shoulder replacement surgery replaces the joint component with a part with different shapes; a round part for the flat scapular joint surface and a flat part for the round humeral head. It gives a space between humeral head and acromion, allowing for a wider range of motion and easy lifting of the arm. It allows for deltoids to perform the role of a shoulder tendon, giving up the function of disabled rotator cuff tendons.
Indication
▶ Shoulder replacement surgery
Comminuted fracture of humerus
Rheumatoid arthritis or degenerative arthritis
Avascular necrosis
▶ Reverse shoulder replacement surgery
Retear or concern of retear after rotator cuff repair
Dislocation of humeral head out of upper part of the joint surface due to extensive rotator cuff tear, resulting in wear of the cartilage and arthritis.
Procedure
1.

Incise the skin on the shoulder and open the joint capsule while protecting rotator cuff tendons

2.

Trim and cut the surface of the humeral head according to the desirable angle and depth for implant.

3.

Trim and cut the joint surface of the scapular and insert implant using bone cement

4.

Insert polyethylene liner, artificial cartilage, and connect joints

5.

Confirm the joint motion and suture the rotator cuff
Duration
1-1.5 hours
Hospital stay and Precautions
1~2 weeks