Radiofrequency Disc Decompression (Nucleoplasty)
Definition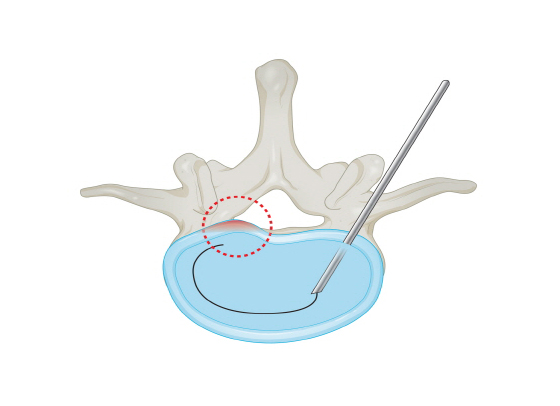 Radiofrequency Disc Decompression is a non-surgical treatment option by inserting a needle into the bulged disc and emitting radio waves to dissolve the enlarged disc and decompress. The process would be performed under local anesthesia, avoiding the risk of general anesthesia. It does not require muscle incision, resulting in minimized muscle pain. Minimized nerve damage and a brief hospital stay are additional advantages.
Indication
Patients with herniated discs of cervical or lumbar spine
Patients with mild degenerative changes
Patients who had minimal effect from conventional treatments such as physiotherapy
Patients who are afraid of surgery
Patients who had conditions hindering general anesthesia
Procedure
1.

Basic preoperative tests (blood, electrocardiogram, and X-ray) will precede

2.

A thin needle would be inserted under the local anesthesia without incision

3.

Radiofrequency evaporates the disc, not burning the tissue, and induces decompression

Would be performed while lying on the stomach (in case of lumbar spine)
Would be performed while lying on the back and extending the neck (in case of cervical spine)
Duration
30 minutes (may vary)
Note
Please notify us in advance if you are taking anticoagulants
The pain may get slightly worse in the first week or two.
It is more effective when combined with exercise therapy.
No showering and walking allowed in 24 hours after the procedure.