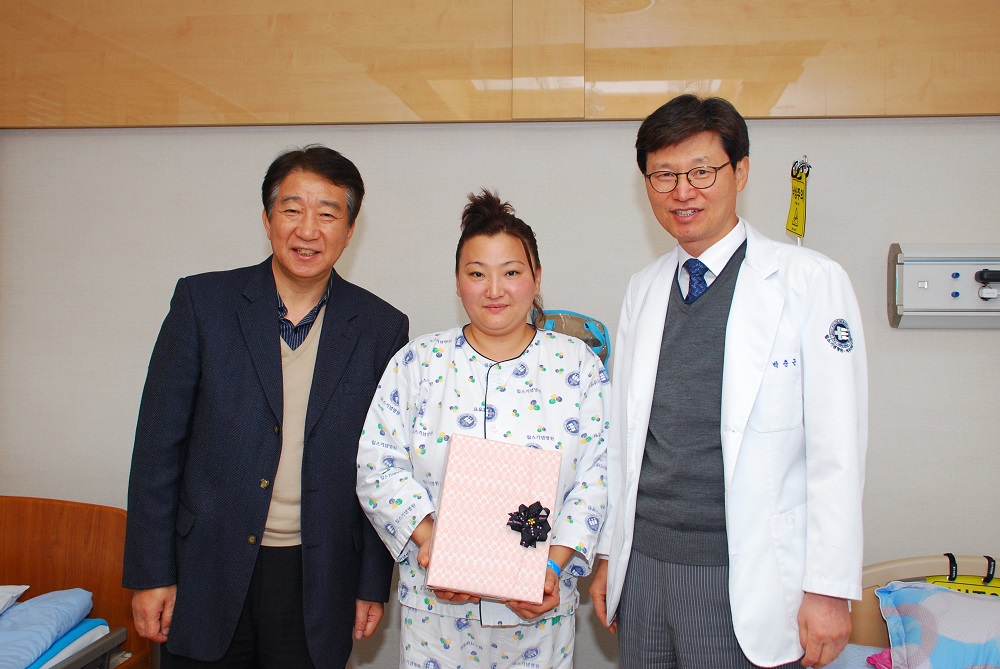 Wiltse Memorial Hospital spreads a sense of sharing for a Mongolian patient suffering from a herniated disc
Wiltse Memorial Hospital (President Park Choon-keun), a spine specialized hospital designated by the Ministry for Health, Welfare and Family Affairs invited a low-income Mongolian patient, Uoyonghu (39, female) who had a herniated disc that was causing difficulty with her daily life and provided her with free surgical treatment.
She is a beneficiary of the 'Sharing Health Care for Oversea Patients' project, part of the larger Mongolian Market Development project. Gyeonggi-do supported the costs for airfare and living expenses and Suwon Wiltse Memorial Hospital provided free surgical treatment.
Uoyonghu had her preoperation test on November 11 and the anterior (abdominal) lumbar interbody fusion was performed by President Dr. Park. It involves a surgery that removes the disc and inserts artificial discs by approaching the spine through an incision less than 5-6 cm on the abdomen.
She explained, "It was frustrating that I was no longer able to climb mountains. I am happy now that I can resume my mountain climbing hobby again, thanks to Wiltse Memorial Hospital providing me with free treatment."
Reporters from Mongolian National Broadcaster (MNB) are planning to make a documentary film that focuses on the visit of Gyeonggi-do health care representatives to Mongolia last September as well as the treatment and rehabilitation of the patient in Korea.
Dr. Park added, "This event is able to help enhance the reputation of Korean health care by being broadcasted across all of Mongolia via MNB. I hope it will be a great help for recruiting international patients."
Meanwhile, Wiltse Memorial Hospital opened an office at the center of Ulaanbaatar last September, so it can help influence the attraction of foreign patients and expand their collaboration in health care.